Decline In Value Forms
Decline In Value Forms
If you believe the assessed value of your home is greater than its current market value, you may request a review by filling out and returning a Decline-in-Value Reassessment Application.
This proposition allows the Assessor to temporarily lower assessments when the market value on January 1 is lower than the factored base year value for that year.
Orange County Click here for "Decline In Value" property tax form. Online application to reduce your property taxes. Important, note application deadline April 30, 2008,
for "Decline In Value" property tax form.
Riverside County Click here If you have further questions please review our Frequently Asked Questions (FAQs), complete our Public Inquiry form, call (951) 955-6200 or contact us via email at accrmail@co.riverside.ca.us.
Los Angeles Click here You must file a claim form with the Assessor between January 1 and December 31 for the fiscal year beginning on July 1. If December 31 falls on a Saturday, Sunday, or a legal holiday, an application is valid if either filed or mailed and postmarked by the next business day.
San Bernardino Click here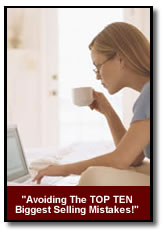 For more information on how to avoid mistakes when selling, download our free report called "Avoiding the Top Ten Biggest Selling Mistakes". This report is offered to all guests.