Wednesday, August 25, 2010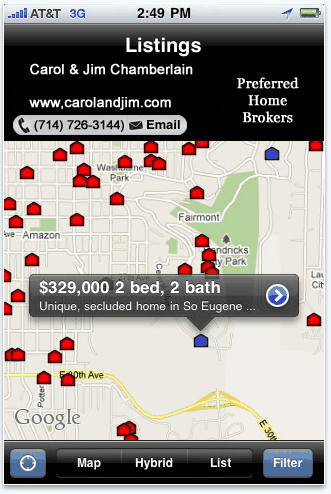 My Agent is the best iPhone app for house hunting I have ever used. Go anywhere click on the My Agent App and what you see is all the properties listed for sale all around you. Click on any of the houses and you can find what the price is and the bedroom and bath count. Click on the arrow in the same box and it opens up the picture of the house, Description, and more photos. Slide the map in any direction and more homes will show up. There is even a filter to adjust the minimum and maximum price, number of bedrooms, number of baths, and even the square footage. Fast, easy to use, and it's free.
After you download the free app (My Agent by IDX) from the App Store you will have input a 4 digit password (4693) one time to be able to use the app. No, I have not used this app all over the country but I have used in Orange and Los Angeles Counties. Carol has found it very useful when showing property to buyers. There may be another home close by one Carol has picked to show and the buyers want to know why she isn't showing them the house down the street. All she does is open up My Agent "Refresh the Map" and click on the house in question and she can show the buyer the house didn't have enough bedrooms, or baths, or square footage was below the minimum they wanted.
When you're driving around and see a new sign up in a neighborhood you can find out all the information quickly using My Agent. If your house hunting this is a must have app!